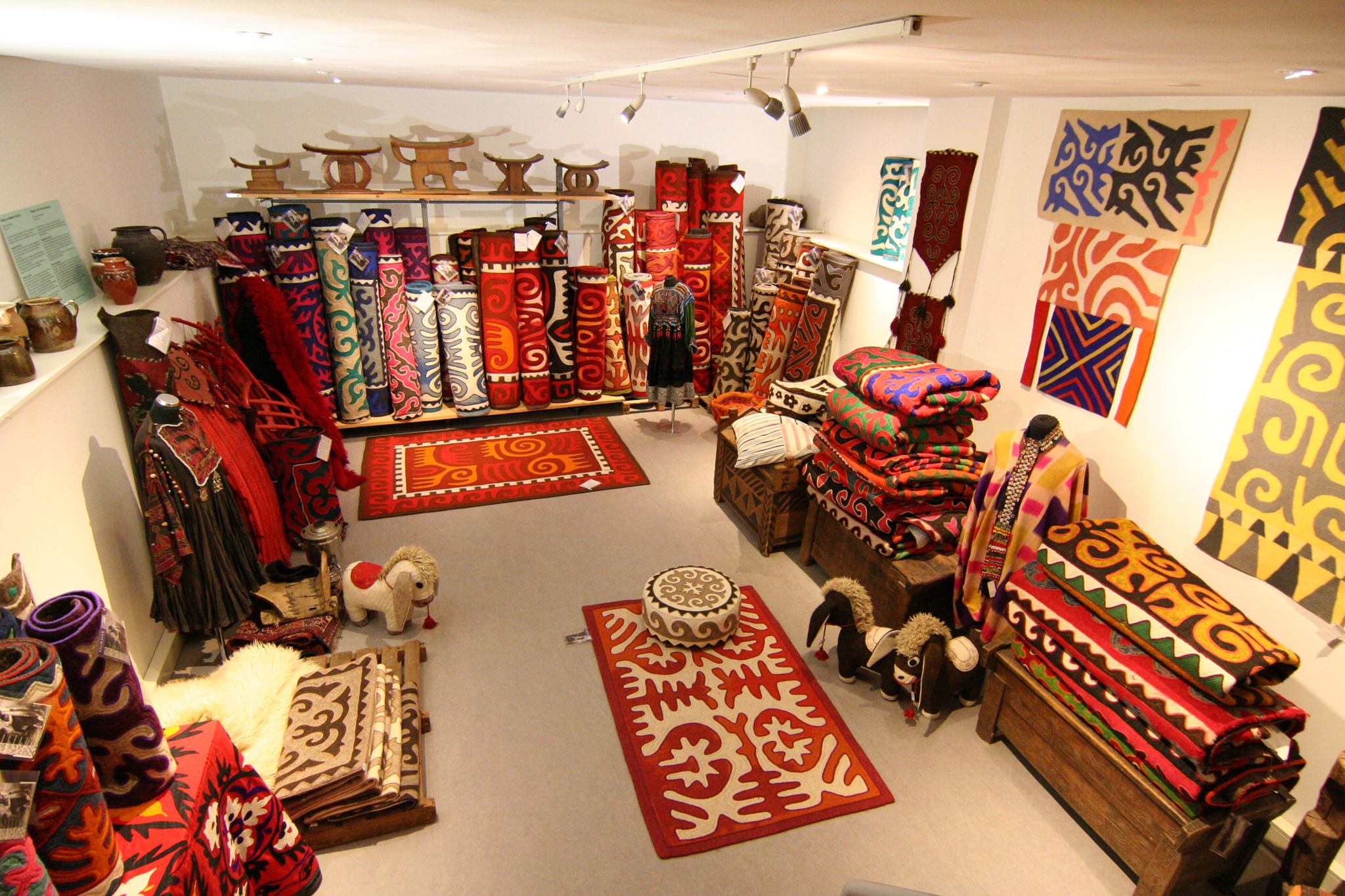 Arts and crafts of Kyrgyz people has evolved over the centuries. It was formed based on the needs of people's everyday life, and the nomadic way of life influenced it much. Among the major forms of arts and crafts felt art, weaving, patterned embroidery, making of mat, leather products, jewelry, and wood carving.
The art of making felt products is closely related to the dwelling of the nomads, the yurt. Carpets of felt, decorated with ornaments, are called "shyrdaks". Shyrdak is a very important element in the decoration of a yurt. It is usually located on the floor. Felts for shyrdaks are made ​​from sheep wool, which is tightly rolled and painted in bright colors. Felt is made from pieces of ornament, then they are sewn together to form a beautiful carpet.  Shyrdak's length is usually four meters. width is about two meters. The great meaning in the applied arts has the carpet "ala kiyiz" (kyrg. "motley felt"). It differs from shyrdak that felt pices are not sewn, but they are rolled to each other.
The art of making mats is also popular among craftsmen. Mats are made from woven straw called "chiy" and threads of colored wool. The mats are widely used in everyday life. They are important components of the yurt, and they are layed under felt carpets to protect them from moisture.
Embroidery also can be noted as significant craft of Kyrgyz people. Often only women involved in it. They skillfully embroider patterns and ornaments on fabrics, leather and felt. Kyrgyz masters magnificently embroider wall pictures "tush-kiyiz". Such pictures' center is usually plain, without patterns, while the sides are framed by the wonderful color ornaments. Pattern embroidery is also common for traditional bags "ayak-kap" and hanging shelves "tekche".
Leather products made by local artisans can be noted as unique items. They are not just clothes and shoes, but also vessels  ("sabaa", "chanach", "kookor"), framing for chests, cases and horse equipment.
Wooden products are made of different tupes, for example, elm, juniper, poplar and cherry trees. These products are dinnerware, chests and boxes, racks and cases, special chess and backgammon, musical instruments.
The skills of goldsmiths called "zerger-usta" are highly appreciated. For Kyrgyz people silver metal is sacred, it is not only a decoration, but also a ward off for evil spirits. Silver rings ("shakek"), bracelets ("bilerik"), pectorals ("soyko", "jel-byurooch"), silver decoration for braids ("chach ushtuk") are extremely popular among Kyrgyz women.
You can get acquainted with Kyrgyz arts and crafts and even purchase some of the items in many towns and villages by visiting handicraft centers, workshops, exhibitions or special shops.