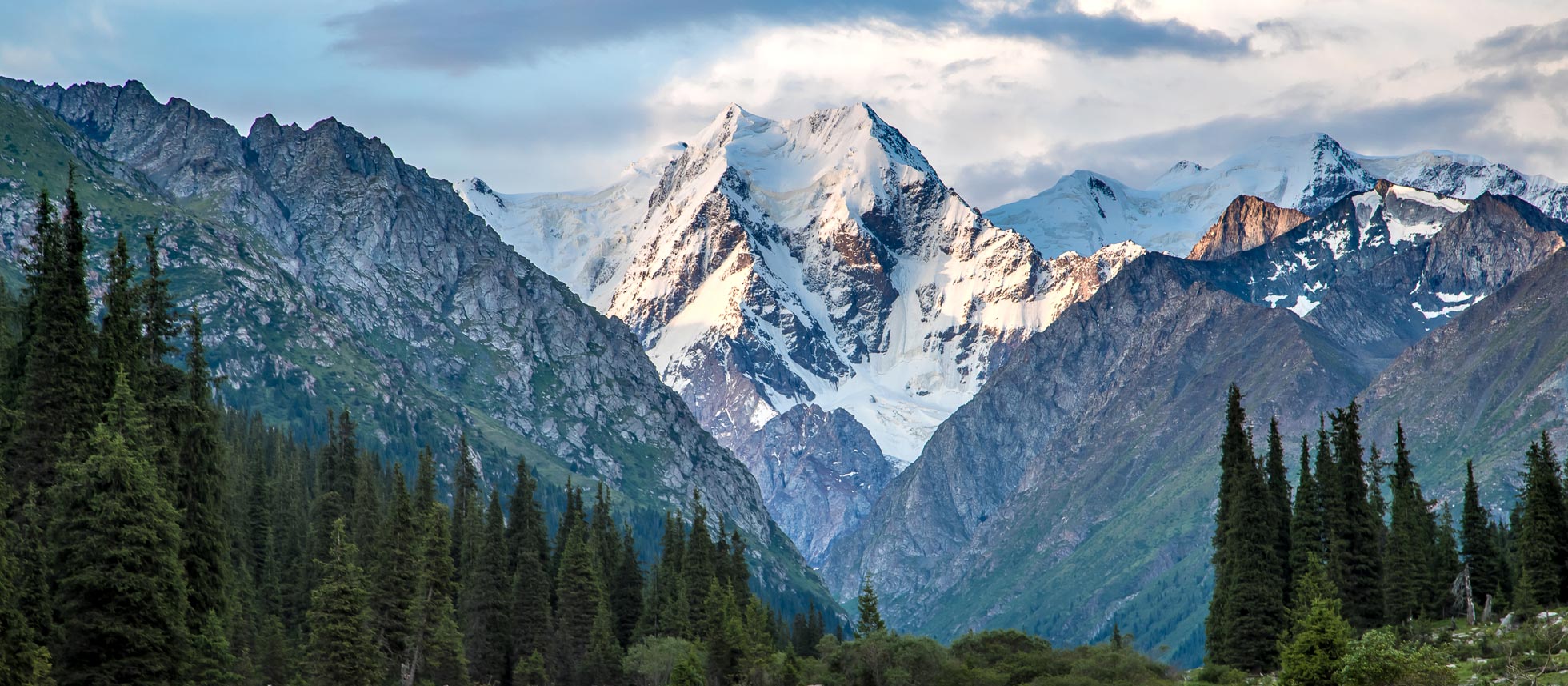 Let's look into mountains and valleys in more detail. 
Pobeda Peak is the highest mountain peak in Kyrgyzstan. It is located in the mountains of the Tien Shan mountain range to the east of Issyk-Kul lake, closer to the Kyrgyz-Chinese border. Pobeda Peak, like Lenin Peak, was among the top five seven thousand meters high peaks of the former USSR. Its height is 7439 meters above sea level. The summit was not conquered until 1956. 
The height of Lenin Peak is 7134 meters above sea level. The mountain peak is located on Chon-Alai Range, located between Kyrgyzstan and Tajikistan. For the first time Lenin Peak was conquered in 1928. 
Khan-Tengri Peak or known in circles of climbers, as "Lord of the Sky" is located on Tengri-Tag ridge, located on the border of Kazakhstan, China and Kyrgyzstan. Its height is 7010 meters above sea level.
The peak of Military Topographers, 6873 meters high above sea level, is located in the Central Tien Shan on the Muztag massif.
The next three peaks are located in the same area, but slightly inferior in height to "Military Topographer". Thus, in the upper reaches of the Southern Inylchek glacier, there is a series of well-known six thousand meters: the Peak of Friendship (6,800 meters), the Peak of Shater (6,700 meters) and the Peak of Chapaev (6,371 meters).
The Abshir-Say tract is a picturesque canyon-shaped gorge. It is located seventy kilometers from the city of Osh. The bottom of the gorge lies at an altitude of 1500 to 2500 meters above sea level. The picturesque canyon formed by the river of the same name, framed by sheer cliffs, is a unique monument of nature. The flow here is quite turbulent and the waterfalls of this river are an impressive sight. The waters of the Abshir-Say river have healing properties. Ephemeral plants grow here, archa. Translated from the Tajik, the name of the tract means water-milk source.
Fergana Valley 
Borders with two neighboring countries such as Tajikistan and Uzbekistan are located in Fergana Valley. That makes it ethnically diverse places in Central Asia. Naryn and Kara-Dariya rivers merge in the valley forming Syrdarya river. Traveling around the valley maybe sometimes challenging due to border disputes. Main occupation of people living in the region is agriculture and animal husbandry. Border bazaars and natural beauty of the valley attract plenty of tourists. 
Chui Valley 
Chui Valley is lies between two countries: in the South of Kazakhstan and in the North of Kyrgyzstan. The capital of Kyrgyzstan is located in Chui Valley, the region is called Chui oblast, which is the most populated region of the country. Popular destinations in the valley are Ala-Archa National Park and The Burana Tower.